Features
Courtesy Connection is the best platform on the market for call management. We are purpose-built for property management. Our tools empower your community staff to deliver fantastic resident experiences, provide accountability for all call participants, and keep your resident communications just a click away.
The core offering of Courtesy Connection is a powerful and customizable call routing, reporting, and notifications engine.
You can schedule different behaviors for different times (so that you have weekday vs. weekend routing/notifications or business hours vs. after-hours routing/notifications, for example).
Calls can be routed to individual Operators, Operator Groups, recorded messages, phone trees, voicemail, or forward to an external number.
If a call comes in to the courtesy line and a CO is on call, then their phone will ring. If they're off-call, then it won't. Learn More or Request a Demo.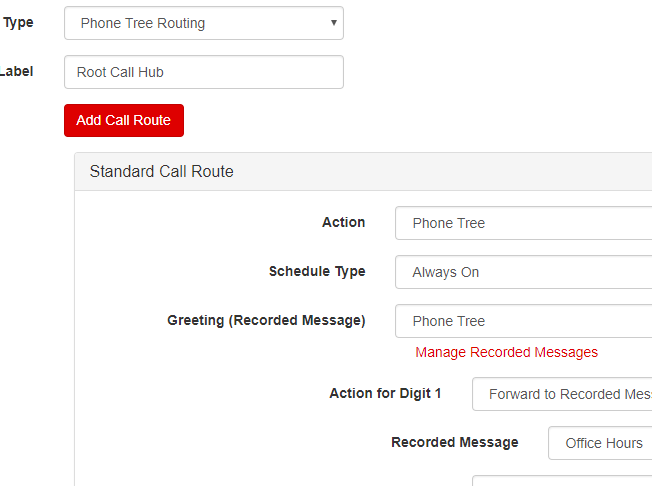 We automatically record *all* calls between Operators, residents, and site staff (unless you select otherwise). No more surprises. Learn More or Request a Demo.
Whenever a call occurs, site staff get an instant email notification with the call details and recording.
This system serves as a digital record for noise complaints. This can be your documentation of frequent trouble spots.
When the call comes in, the Operator can add notes or photos. If he does so, then those will also be present on the email notification to site staff.
You can't fix what you don't know about. Courtesy Connection keeps you connected to your community. Learn More or Request a Demo.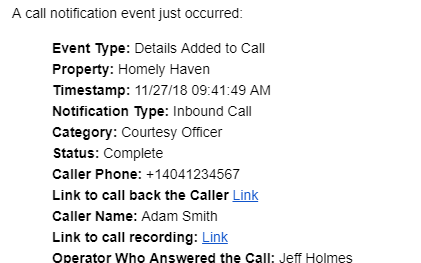 You should be able to see what calls you have coming in, who's answering them, and who's not answering them.
Wouldn't it be helpful to look out across your portfolio and generate drillable, summary reporting for call resolution times? You can drill from regional manager, to property, to individual call Operator, to individual calls all from the same interface.
With Courtesy Connection, it's easy. Learn More or Request a Demo.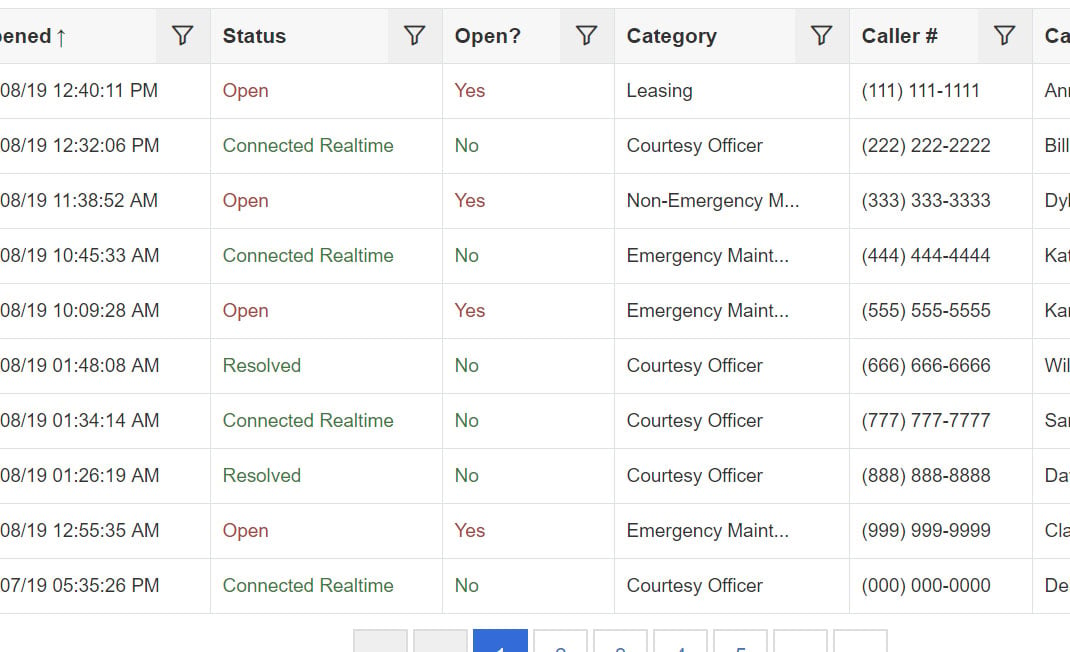 It can be tough to triage a mountain of voicemails on Monday morning! With Courtesy Connection's voicemail transcriptions, a voicemail transcription is generated every time a caller leaves a voicemail in the system.
Additionally, where configured, we can automatically generate translations (from English -> Spanish or from Spanish -> English) to correspond with each voicemail transcription. This makes it much easier for team members to perform a cursory review of voicemails even if they are not fluent in the original language present in the voicemail! Learn More or Request a Demo.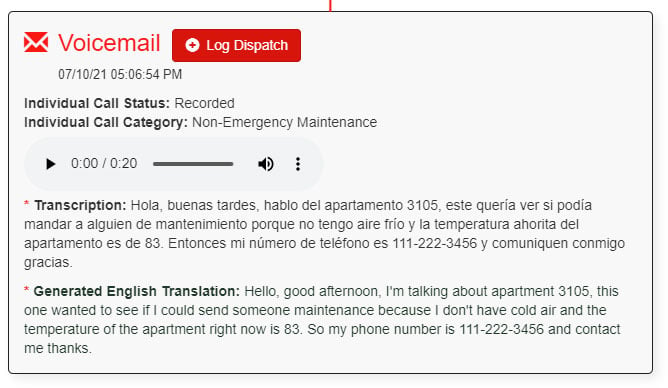 We're in an environment where we often need to call a prospect, resident, or vendor even when we're not physically in the community leasing office.
When that happens, you need the ability to make an outbound call in a way that:
Does not expose your personal cell phone number
Lets prospects, residents, and vendors know that you're calling on behalf of the community (by displaying the community phone number in Caller ID)
Courtesy Connection is the answer. With it, you can easily make outbound calls by phone number, unit number, or resident name from your cell phone in a way that does not expose your personal cell phone number. Learn More or Request a Demo.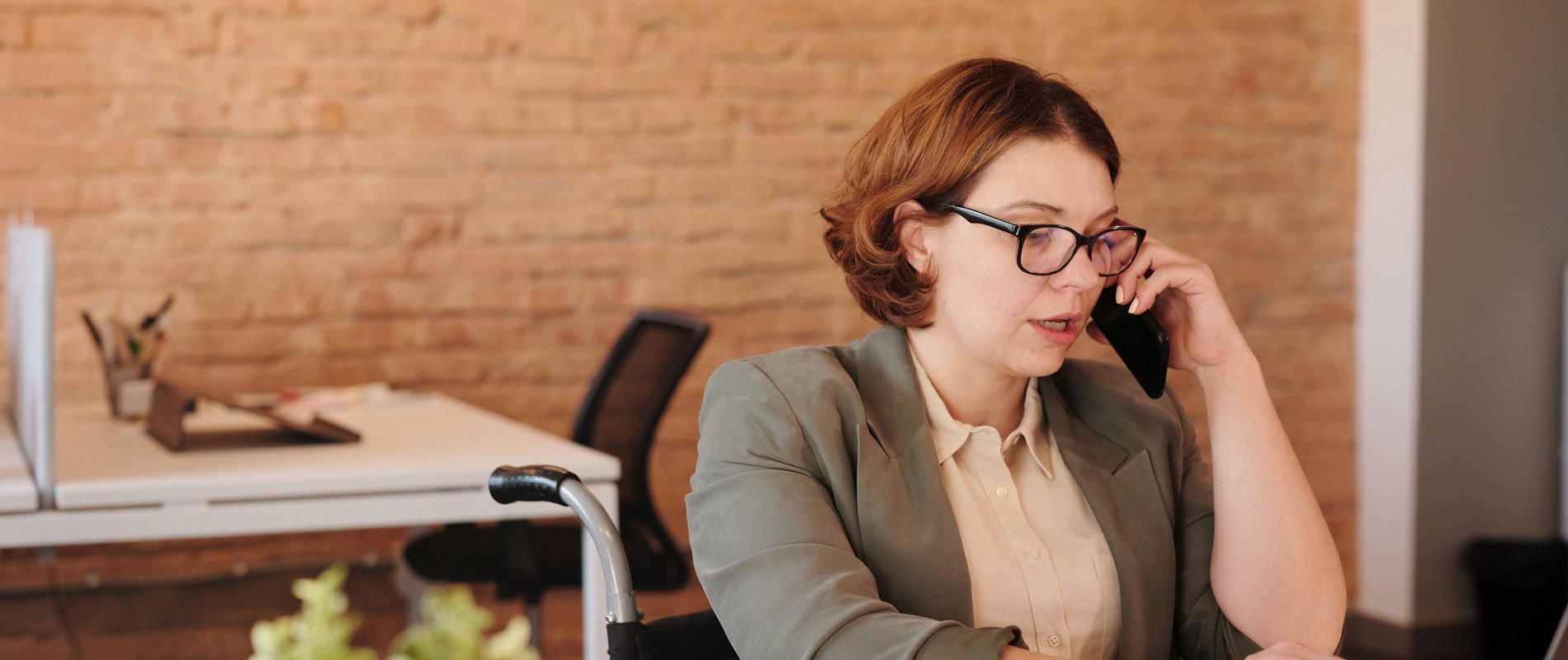 On-Call/Off-Call Time
You can elect to give your Operators the ability to go on-call or of-call. If you do so, then they're in control of their hours. We've seen this most heavily used with courtesy officers.
If a call comes in to the courtesy line and a CO is on call, then their phone will ring. If they're off-call, then it won't.

Site staff often ask courtesy officers and security firms to submit lighting and security inspections. Courtesy Connection can be your platform for those items.
COs can add any number of notes and photos to an inspection.
When an inspection (or other reportable item) is submitted through Courtesy Connection, it's trackable, reportable, and sends instant notifications to site staff. Learn More or Request a Demo.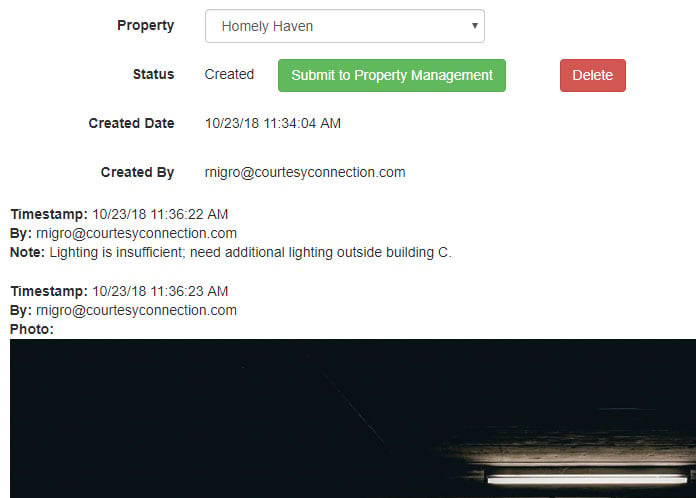 Exportability
Sometimes you need to break your data out of a source system. In Courtesy Connection, all grids are exportable into Excel, and reports are exportable into PDF.

Request Information From Sales
If you'd like more information on what Courtesy Connection can do for your communities, then give us a ring at 678.829.4478, email us at [email protected], or enter your info below. We're happy to send over references, perform a demo, or explore a pilot.
About
Courtesy Connection was started by a property management industry vet and technology expert. It is a force-multiplier for the most important resource in property management: our people.
Learn More
Think Courtesy Connection could be the platform for you? Send us a note, and we'll be in touch ASAP!
---