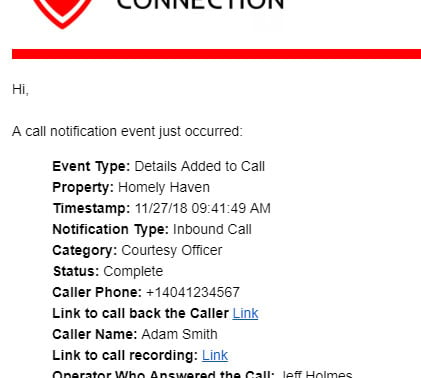 Instant Email Notifications
With too many legacy answering service providers, missed and after-hours calls are a black hole. With Courtesy Connection, you can decide *exactly* who should be notified via email following the conclusion of a call (whether that is a missed call, a completed call that connected real-time, or a voicemail). Using Courtesy Connection's powerful call routing engine, you can direct email notifications by job role, by individual employee, or even to an independent email address.
Courtesy Connection's email notifications include all the relevant information from a call (or lighting/security inspection from a courtesy officer). You'll see:
Call date and time
Call participants
Link to call recording
Link to view call details
Any note or photos entered by the call participant
And more...
Request Information From Sales
If you'd like more information on what Courtesy Connection can do for your communities, then give us a ring at 678.829.4478, email us at [email protected], or enter your info below. We're happy to send over references, perform a demo, or explore a pilot.
---