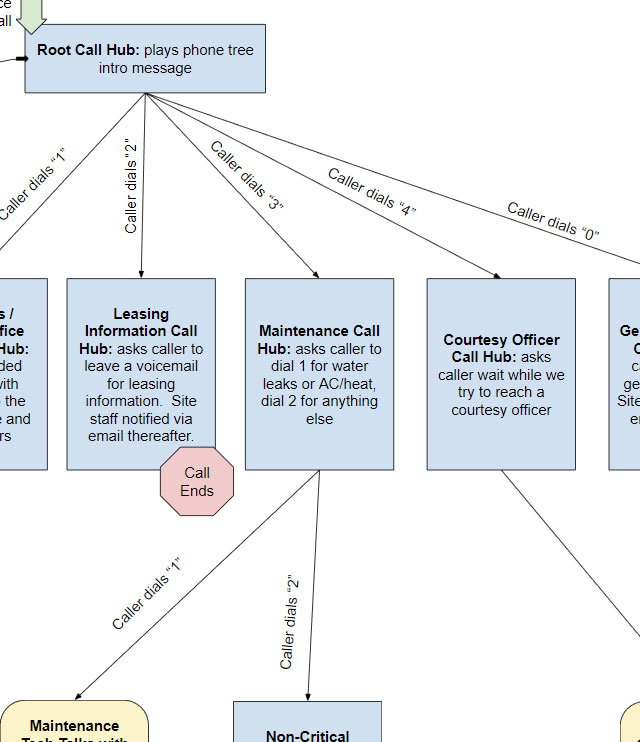 Call Routing Engine
Courtesy Connection provides a powerful call routing and phone tree engine. With it, you can create infinitely customizable call routing, changing real-time call and email notification recipients to match how you run your business. This engine is wildly more powerful than that of legacy answering service providers: it's time to raise your expectations.
Phone Tree Components
A Courtesy Connection phone tree is made up of many components: Call Hubs, Call Routes, Operator Groups, and Notification Groups. These components can be combined to address diverse business needs. To be clear, we've not come across a routing scenario that we've not been able to support using this engine.
Call Hub: This is a step in a phone tree.
Call Route: This is the behavior of an individual Call Hub. Behavior at a call route is highly configurable and can be scheduled in different ways.
Operator Group: This is a collection of Operators (individual persons who can be a recipient for real-time routed calls). They can be individually mapped by name or mapped by job role (all maintenance staff, all courtesy officers, etc.).
Notification Group: These are defined in the same way as Operator Groups, but they are used instead for missed call, completed call, and voicemail email notifications. For example, you might want an RPM to be emailed following a courtesy officer call, but you'd probably never want an RPM to receive real-time routed courtesy officer calls.
Request Information From Sales
If you'd like more information on what Courtesy Connection can do for your communities, then give us a ring at 678.829.4478, email us at [email protected], or enter your info below. We're happy to send over references, perform a demo, or explore a pilot.
---